0 out of 5 stars (based on 0 reviews)
There are no reviews yet. Be the first one to write one.
Capital.com REVIEW
What is Capital.com?
Capital.com is a leading CFD and Forex broker. They provide access to over 4,000 markets with tight spreads, zero commission, and no hidden fees. Capital.com was established in 2016 with offices in the UK, Melbourne, Cyprus, and Belarus. Investors that chose Capital.com as their broker come to a number of over 788,000 traders worldwide—and this is not a surprising fact.
Capital.com is known for its easy-to-use award-winning CFD trading platform and its well-regulated nature. With market-leading spreads and zero commission, Capital.com's traders can make a move on 3,000 of the world's most popular indices, commodities, cryptocurrencies, shares, and currency pairs on the web and on mobile.
The official website of the Forex Broker Capital.com

➔ Open your free trading account with Capital.com now

(Risk warning: 75.59% of retail CFD accounts lose)
Capital.com Pros and Cons
Capital.com is a forex and CFD broker offering trading in more than 30 asset classes. The firm has three top-tier licenses from CySEC, ASIC, and FCA, making it one of the most regulated brokers in the industry. Capital.com provides trading safety and a great range of instruments for CFD and Forex trading.
The broker offers the popular MT4 as its primary trading platform, which comes with an easy account opening process and relatively low spreads.
Another great advantage is the low minimum deposit that makes it a perfect choice for beginner traders. However, the broker's market range is limited to FX and CFDs only; education and research are rather limited also only the MT4 platform is available on mobile devices.
| Advantages | Disadvantages |
| --- | --- |
| Global Broker with offices in Cyprus, UK | Leverage for FCA/CySEC clients restricted to 1:30 |
| Compensation scheme and negative balance protection | Market range limited to FX and CFDs |
| Suitable for both beginners and Professionals | conditions and market offerings vary depending on the entity |
| MT4 broker | |
| Commission-free | |
| 24/7 customer support | |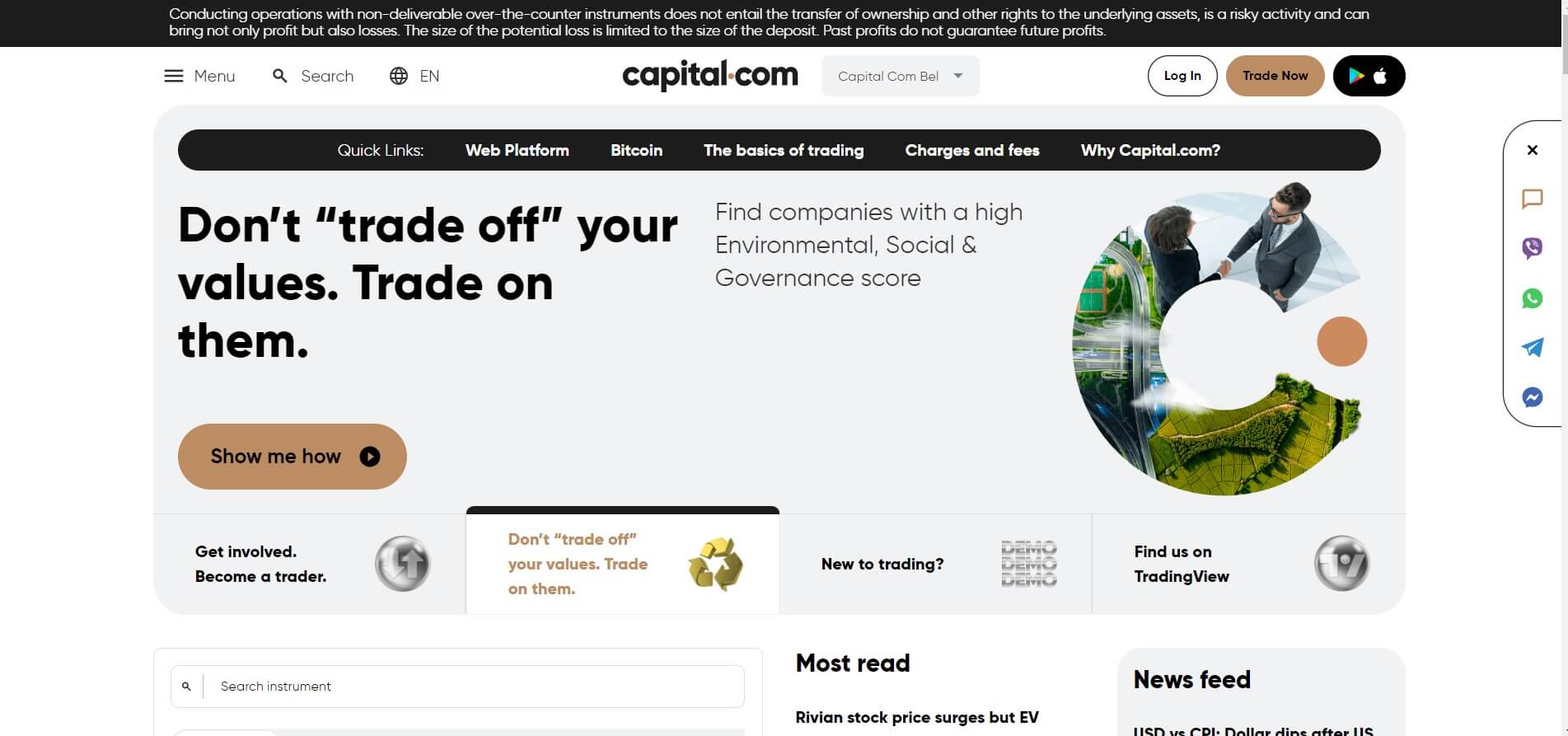 ➔ Open your free trading account with Capital.com now

(Risk warning: 75.59% of retail CFD accounts lose)
Is Capital.com safe or scam?
Capital.com is not a scam. We are regulated by the Financial Conduct Authority (FCA) and the Cyprus Securities and Exchange Commission (CySEC).
Yes, it's true that trading on margin is high-risk. But we're here to help you make sure you know what you're getting into before you start trading.
Is Capital.com legit?
Capital.com is fully regulated, audited, and authorized by industry-leading watchdogs: FCA and CySEC. The broker has also acquired a license from Australian regulator ASIC – Capital Com Australia Limited (Forex Australia) and regulated by the Australian Securities and Investments Commission (ASIC).
Capital.com is a member of the following organizations: FXall, Thomson Reuters, FX Leaders, FXall Trading Community, FXALL for Corporate Treasury, eToro Platform, Currenex CTX, Currenex CXS, Currenex CTS, Currenex C2S, Currenex EBS Market Access Platform.
Based in the European Union, Capital.com complies with the requirements imposed by the Markets in Financial Instruments Directive (MiFID). In simple terms, it means the broker is regulated and authorized to offer its trading service along with necessary safety measures and controls applied.
In addition, the broker's closed joint-stock company "Capital Com Bel" holds a license from the National Bank of the Republic of Belarus with company registration number.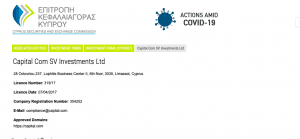 ➔ Open your free trading account with Capital.com now

(Risk warning: 75.59% of retail CFD accounts lose)
How are you protected?
Capital.com is a broker that offers competitive spreads, tight latency, and a platform that's easy to use.
As a retail client's money is fully segregated from the broker funds and is kept separately and safely with world-leading banks. Along with the rest, necessary protection procedures that are carefully followed by the company, the trading accounts, and overall management of the traders from A to Z adhere to provide you with a clear state of mind.
Every deposit is protected by the Investor Compensation Fund or by the Financial Services Compensation Scheme in the UK in accordance with regulatory provisions.
Capital.com has implemented negative balance protection and margin closeouts to ensure that traders don't ever lose more money than they put in. The EEA registration and the provision of services on a cross-border basis performed by authorization from cross authorities within Europe make Capital.com operation standards highly reasonable.
Leverage
Capital.com is a Cyprus regulated broker that offers clients the opportunity to trade using leverage. Leverage can be used to increase your initial trading size, and it can also magnify your gains. However, along with its great potential, leverage also increases risks.
For this reason, regulatory bodies restrict the use of leverage for retail traders as risks to fall into negative scenarios are very high if you don't know how to use leverage properly.
Capital.com being an EU regulated firm operates under ESMA restrictions as well, therefore may offer lower leverage levels that are also defined by each instrument separately and may be checked from the platform directly.
Retail traders' leverage is a maximum of 1:30 for major currency pairs, 1:10 for Commodities, and 1:20 for non-major currency pairs, gold, and major indices 
Professional traders may access high leverage up to 1:500 once the status is confirmed
➔ Open your free trading account with Capital.com now

(Risk warning: 75.59% of retail CFD accounts lose)
Account types
Forex trading can be a risky business, and it's important to understand that before choosing an online broker. With Capital.com you can choose from 3 account types, which are Standard, Plus, and Premier. These accounts differ in services and additional functions available for the traders. Also, Capital.com allows you to either open a demo account and test trading strategies or to open a live account to enter forex markets.
Certainly, it is important to understand the risks involved in trading before account opening, hence the broker strongly encourages new traders to practice and educate themselves by using a demo account, also how to minimize risk using the educational tools available from the broker learning programs.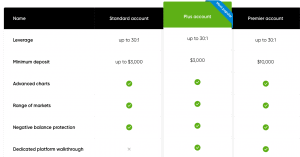 ➔ Open your free trading account with Capital.com now

(Risk warning: 75.59% of retail CFD accounts lose)
Fees
Capital.com is a trading platform that allows its clients to buy, sell and trade stocks, CFDs with ease. The broker aims to provide the best possible experience when it comes to customer service and technological capabilities. The company keeps its fee and pricing policy transparent which means if there are any charges added, the company will make sure these fees are clear in the beginning.
Broker's fees are mainly based on spread charges, also be sure to check the full fee structure below.
| Fees | Capital.com Fees | Global GT Fees | GO Markets Fees |
| --- | --- | --- | --- |
| Deposit Fee | No | No | No |
| Withdrawal Fee | No | No | No |
| Inactivity Fee | Yes | Yes | Yes |
| Fee ranking | Low | Average | Average |
Spreads
Capital.com offers some of the tightest spreads on the market, such as the EUR/USD is listed as low as 0.6 pips. Broker's fees are mainly based on spread charges, which are competitive across the market.
| Asset | Capital.com Spread | Global GT Spread | GO Markets Spread |
| --- | --- | --- | --- |
| EUR USD Spread | 0.6 pips | 1.6 pips | 1.2 pips |
| Crude Oil WTI Spread | 5 | 3 | 1.9 |
| Gold Spread | 30 | 0.30$ | 1.4 pips |
| BTC USD Spread | 60 | 2.50 $ | 0.75% |
Overnight fee
Overnight fees are based on the amount of money you have invested in a given asset, rather than how much leverage you use.
The overnight fee is calculated as a percentage of the amount of money you have invested in an asset. For example, if you invest $1,000 USD in a position with 10x leverage, and then close out that position at the end of the same day, your overnight fee will be $10 USD (1% of $1,000 USD).
➔ Open your free trading account with Capital.com now

(Risk warning: 75.59% of retail CFD accounts lose)
Market Instruments
At Capital.com you can trade Contracts for Difference (CFDs) on stocks (like Apple), commodities (like Silver), indices (like the Germany 30), currency pairs (like EUR/USD), and cryptocurrencies (like Bitcoin).
The broker offers mostly CFDs on stocks, crypto and opened the offer for real stocks for the United Kingdom, Denmark and France.
Capital.com offers access to the most liquid and popular markets, so you may choose an instrument that suits your trading needs from its user-friendly portal.
Deposits and Withdrawals
Capital.com works with a variety of payment service providers that ensure your possibility to cover a wide range of deposit methods.
We have partnered with some of the most trusted payment service providers in the world, including:
Visa; MasterCard; Skrill; Neteller; Webmoney; PayPal; and many more.
Deposit Options
With Capital.com you can open a live account in any of the following currencies: GBP (£), EUR (€) or USD ($), PLN (zł). 
You can make your first deposit using a debit card, credit card, Bank Wire Transfer, Sofort, iDeal, Giropay, Multibanko, Przelewy24, QIWI, Webmoney, ApplePay, Trustly, 2c2p, or AstropayTEF as your payment method.

Capital.com Minimum deposit
The minimum deposit for trading on Capital.com is 20 EUR, 20 USD, 20 GBP, or 100 PLN, depending on your payment method. Wire transfers have a 250 EUR (or equivalent in the currency of your trading account) minimum deposit.
Withdrawals
If you want to withdraw funds from your Capital.com account, the broker will return the money by the same payment method that you used to fund your account initially. This means, that if you use the bank transfer method, they will send your money back to your bank account. If you use a credit/debit card, they will transfer money back to the card you used.
Usually, Capital.com processes all withdrawal requests within 24 hours but it may take between 5-7 business days for the funds to reach your card/bank account. Wire transfers may take longer
➔ Open your free trading account with Capital.com now

(Risk warning: 75.59% of retail CFD accounts lose)
Trading Platforms
Capital.com offers a variety of platforms for traders, including its own web-based platform and popular MT4. There are also mobile or tablet apps for Capital.com, as well as the option to use known MT4. Note that MT4 is not available to Australian clients.
| Pros | Cons |
| --- | --- |
| User friendly trading software | None |
| Offering MT4 and proprietary platform | |
| Both platforms supporting Web, Mobile and Desktop platforms | |
| Free Demo Account | |
| Technical analysis and no limitation on strategies | |
| Supporting various languages | |
Web trading
Capital.com is a brokerage platform, which offers a wide range of features to its users. It has an award-winning online trading platform that is designed for trailblazers searching for the ultimate trading experience. Along with this platform, traders get access to over 75 technical indicators, multiple trading chart types, and extensive drawing tools. It allows users to control their risk with stop-loss, exploit unexpected price jumps with take-profit, and feel confident with negative balance protection.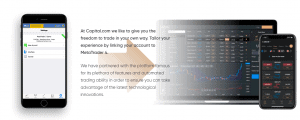 ➔ Open your free trading account with Capital.com now

(Risk warning: 75.59% of retail CFD accounts lose)
MetaTrader4
Capital.com is a broker that offers a range of services to help traders. It also has an MT4 platform, which is used by many professional traders and investors. The platform is easy to use and offers numerous features such as real-time charts and live quotes, in-depth analytics, order management tools and indicators as well as Expert Advisors.
Mobile Trading Platform
Capital.com is a broker with a mobile trading app that allows you to trade CFD's on your phone. They have an AI-powered trading bias detection system that can help you identify cognitive biases that prevent you from making profitable trading decisions.
You can perform free and simple mobile trading with Capital.com, which is suitable for iPhone and Android devices. The app supports MT4 version as well, so you can remain updated about trading on the go. It has been highly regarded and well developed, so you can apply full customization on your phone as well as check account status, request withdrawals, and see fee reports, all from your mobile.
Customer Support
The customer support at Capital.com is one of the best parts of their service. The broker supports 24 languages worldwide, and you can contact them by live chat, phone or email. They're available 24/7, so you can get your questions answered in real time.
Education
Besides maintaining optimum support and assistance, refined products, and full transparency, Capital.com also provides its clients with an excellent education through its Trading Courses with numerous educational articles and trading guides.
We should definitely mention an Investmate – a reliable and handy educational app to learn finance on the go. Investment offers tailored approaches to financial education, depending on a learner's experience and needs. It consists of 30+ information-packed courses designed by financial experts to make an expert of you.
Besides that, Capital.com provides access to other helpful tools for its traders, such as Capital.com TV, Webinars, fundamental news, and technical analysis.
Conclusion
Capital.com is a global brokerage company with a well-established customer-oriented operation, secure, well-regulated trading environment suitable for almost every demand. The services and products are tailored to specific requirements while bringing a comprehensive range of clients' accounts, platforms, tools, and instruments with the ability to choose a suitable strategy.
The broker offers traders a wide range of trading instruments on several markets including equities, CFDs on commodities such as gold or agriculture products and indices including the Dow Jones Industrial Average (DJIA). Further services include online trading platforms for mobile devices as well as web-based solutions for desktop computers and tablets.
The broker's fully functional mobile app allows traders to access their accounts from anywhere in the world. They can deposit funds or withdraw them via bank transfer or credit card payments at any time. In addition to the standard features such as market updates and news feeds providing up-to-date information about current events affecting financial markets worldwide; traders can also receive notifications about price changes of their favorite assets directly on their smartphones or tablets – so they don't miss out on anything!
IC Markets & Tickmill
BROKER:
REVIEW:
ADVANTAGES:
FREE ACCOUNT:
1. IC Markets

(5 / 5)
➔ Read the review
# Spreads from 0.0 pips
# No commissions
# Best platform for beginners
# No hidden fees
# More than 6,000 markets
2. Tickmill

(5 / 5)
➔ Read the review
# Spreads from 0.0 pips
# No commissions
# Best platform for beginners
# No hidden fees
# More than 6,000 markets
Pepperstone & Capital.com
BROKER:
REVIEW:
ADVANTAGES:
FREE ACCOUNT:
1. PEPPERSTONE

(5 / 5)
➔ Read the review
# Spreads from 0.0 pips
# No commissions
# Best platform for beginners
# No hidden fees
# More than 6,000 markets
2. Capital.com

(5 / 5)
➔ Read the review
# Spreads from 0.0 pips
# No commissions
# Best platform for beginners
# No hidden fees
# More than 6,000 markets
Top FX & HFM
BROKER:
REVIEW:
ADVANTAGES:
FREE ACCOUNT:
1. TOP FX

(5 / 5)
➔ Read the review
# Spreads from 0.0 pips
# No commissions
# Best platform for beginners
# No hidden fees
# More than 6,000 markets
2.HFM

(5 / 5)
➔ Read the review
# Spreads from 0.0 pips
# No commissions
# Best platform for beginners
# No hidden fees
# More than 6,000 markets
AMarkets & FXTM
BROKER:
REVIEW:
ADVANTAGES:
FREE ACCOUNT:
1. AMARKETS

(5 / 5)
➔ Read the review
# Spreads from 0.0 pips
# No commissions
# Best platform for beginners
# No hidden fees
# More than 6,000 markets
2.FXTM

(5 / 5)
➔ Read the review
# Spreads from 0.0 pips
# No commissions
# Best platform for beginners
# No hidden fees
# More than 6,000 markets