0 out of 5 stars (based on 0 reviews)
There are no reviews yet. Be the first one to write one.
What is FP Markets?
FP Markets is a Forex broker that has been operating since 2005. The company serves over 12,000 clients worldwide and offers a wide range of products and services to meet the needs of every trader.
The main strengths of the broker are its true ECN electronic bridges and the powerful trading technology that it uses, including the use of innovative technologies.
The official website of the Forex Broker FP Markets
➔ Open your free trading account with FP Markets now
(Risk warning: 75.59% of retail CFD accounts lose)
Where is FP Markets based?
FP Markets is a good broker because it's safe to trade with. The proof of its safe trading environment is also confirmed by necessary legislation obligation and sharp obligation. It is headquartered in Sydney, Australia while ASIC regulation ensures trustable cooperation as well as full compliance with guidelines. Additionally, FP Markets recently opened an entity in Cyprus, which makes it eligible for trading within the EEA zone.
Is FP Markets a true ECN broker?
When you buy and sell securities, there are many different factors that can affect your ability to get a good price. One of the most important is the speed and efficiency with which you can execute a trade. This is where FP Markets comes in.
FP Markets uses ECN technology to provide direct access to the liquidity providers through Equinix NY4 Data Centers and executes order through the best possible price within offering for the particular asset.
This technology provides extremely fast execution speeds along with the most favorable quotes, and spreads from 0.0 pips that allow you to benefit from it.
➔ Open your free trading account with FP Markets now
(Risk warning: 75.59% of retail CFD accounts lose)
FP Markets Pros and Cons
FP Markets is a well-regulated broker with a good trading environment that's suitable for beginners and experienced traders alike. The points to admit are low pricing, good trading proposal with selection of platforms, and an ECN trading environment.
Broker constantly grows and we see good development not only in the proposal but to its global coverage too: before FP Markets was just an Australia-based broker, now it's truly global one.
For the flip side, Spreads for Stocks are higher; also some withdrawals add on commission; also is worth checking the conditions under which you would trade since they are different.
| Advantages | Disadvantages |
| --- | --- |
| Founded in Australia and Regulated by the ASIC | Trading Conditions or proposal may vary according to entity rules or regulations |
| Numerous industry awards and high rankings | Some withdrawal methods add on fee |
| Powerful trading technology and ECN environment | High Stocks trading Spread |
| Low Deposit Requirement | |
| Suitable for beginners and professionals | |
| Excellent education through Traders Hub | |
| Tight Spreads | |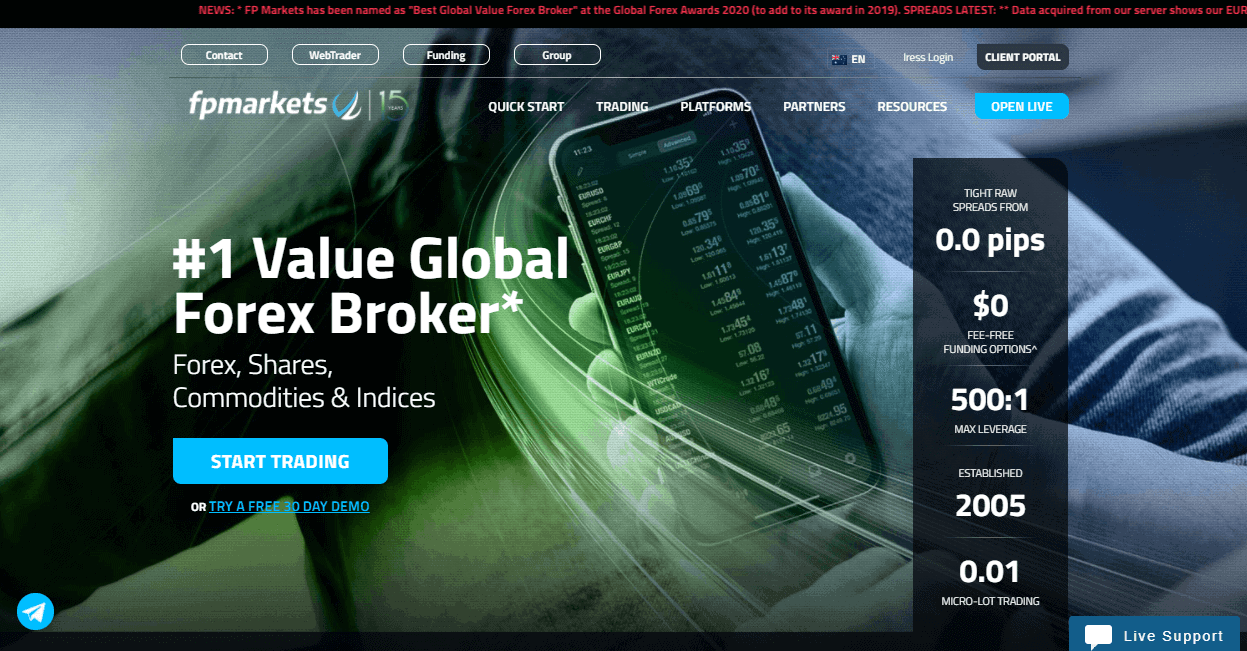 FP Markets Review Summary in 10 Points
| | |
| --- | --- |
|  Headquarters | Australia |
|  Regulation | ASIC, CySEC, St. Vincent & Grenadines |
|  Platforms | IRESS, MT4, MT5 |
|  Instruments | 10,000+ products Forex, Indices, Commodities, Metals, Cryptocurrencies, Equity CFDs , Bonds, ETFs |
|  Minimum deposit | 100$ |
|  EUR/USD Spread | 0.0 pips |
|  Demo Account | Available |
|  Base currencies | 10 Base Currencies |
|  Education | Learning materials and research through Traders Hub, News, Market Outlook, video tutorials, eBooks |
|  Customer Support | 24/7 |
➔ Open your free trading account with FP Markets now
(Risk warning: 75.59% of retail CFD accounts lose)
Overall FP Markets Ranking
FP Markets is a leading broker in the CFD industry. They have been in business since 2010 and are regulated by the FCA and CySEC. Their trading platform is available for both desktop and mobile devices.
The trading conditions at FP Markets are quite good, especially when you consider their low fees. There are many points that mark FP Markets in front including global exposure available for all traders, good platforms provided and no restrictions on trading timeframes or products available to trade with (CFDs).
Our Overall Ranking of 9 out of 10 based on our testing and compared to over 500 brokers, see Our Ranking below compared to other industry Leading Brokers.
| Ranking | FP Markets | BlackBull Makets | Orbex |
| --- | --- | --- | --- |
| Our Ranking | | | |
| Advantages | ECN trading | Low Fees | Platfroms |
FP Markets Alternative Brokers
We have tested and reviewed FP Markets, a broker that offers a great array of trading instruments. Besides to its great offeringg we found some Cons too, like instrument offering is differentt based on entity, also Stocks are traded as CFDs and are slightly higher costs. Even though, spreads, education and platform solutions are really good at FP Markets it good to consider other brokers too, see our selection of Alternative Brokers below:
➔ Open your free trading account with FP Markets now
(Risk warning: 75.59% of retail CFD accounts lose)
Awards
FP Markets, the best forex broker in Australia, has been recognized for its excellence. It has been awarded by many publications and reputable editions. The quality of service they offer, as well as trading conditions along with high regard from the traders is a good proof of trust and great establishment.
FP Markets continues to acquire new awards which are a result of their dedicated and client-oriented policy. They were recently awarded Best Global Forex Value Broker, Best Forex Broker Australia, Outstanding Value CFD Provider, and Best Forex Partners Programme in Asia.

Is FP Markets safe or scam?
FP Markets is a reputable Australian broker that's been in business since 2002. It's a member of the Australian Securities and Investments Commission (ASIC), which means it has to comply with all of their regulations, and it also complies with the MiFID European directive.
FP Markets has an offshore entity in Cyprus, but this doesn't impact your safety or security when you trade with them. In fact, you can use their service even if you're trading from outside of Australia!
| FP Markets Strong Points | FP Markets Weak Points |
| --- | --- |
| Regulated by several authorities | Not listed on Stock Exchange |
| Australian ASIC and Cyprus CySEC | International proposal done by SVG |
| Negative balance protection for European clients | |
| Segregated Accounts and excellent long history of operation | |
➔ Open your free trading account with FP Markets now
(Risk warning: 75.59% of retail CFD accounts lose)
How are you protected on FP Markets?
When you trade with a broker, you want to make sure that your money is safe. The regulatory status is indeed the most important measure, as in simple words it means a client is treated fairly according to international laws and requirements. So being regulated broker traders funds are segregated from the company funds, while held in selected top-tier banks, such as National Australia Bank and the Commonwealth Bank of Australia with daily fund reconciliation and application of the standard covers under investment protection. See our check of license below:
The Financial Markets Authority (FMA) is a New Zealand government agency that oversees the financial markets. FP Markets is regulated by the FMA, which has different requirements for different types of brokerages. For example, while all brokerages must abide by the same rules regarding negative balance protection on client accounts, they may differ depending on whether you're trading with FP Markets Cyprus or SVG.
In addition to this requirement, FP Markets also participates in a retail compensation scheme that is available to its clients. This means that if your account is negatively affected by any number of events (such as a system error), you can file a claim and receive compensation from FP Markets if they are found responsible for your losses. This is not currently an option at SVG.

What Leverage FP Markets offer?
FP Markets is an Australian broker, therefore it has to comply with the ASIC set of rules. Leverage levels in Australia are significantly lower than what was available before. The maximum leverage allowed is 1:50 and there are other restrictions.
FP Markets also has a European entity called FP Markets Europe Ltd, which means that it also has to comply with ESMA rules. This entity offers higher levered products, but only for certain instruments.
European traders can use a maximum of 1:30
➔ Open your free trading account with FP Markets now
(Risk warning: 75.59% of retail CFD accounts lose)
Account types
FP Markets is a dedicated forex broker offering multiple account types to accommodate different trading styles. The company offers two account types with STP and ECN execution models, as well as three IRESS account types that are available through MT4 or MT5 platforms. Also, FP markets offer MAM and PAMM accounts, while copy trading is available on each of the accounts offered. You can also see other brokers that have Islamic forex accounts.
However, while the proposals are fairly similar in many respects and all focus on diversification, some differences between the pricing models may also exist; therefore it is important to check out which one will work best for your needs.
See our negative and positive points below, and accounts comparison:
| Pros | Cons |
| --- | --- |
| Fast Account Opening, fully Digital | None |
| 2 Account types with ECN and Standard execution for MT4 MT5 platforms | |
| Separate account for IRESS platform | |
| Low Minimum deposit | |
| Free deposit | |
➔ Open your free trading account with FP Markets now
(Risk warning: 75.59% of retail CFD accounts lose)
How to open Demo Account
You can open an account with FP Markets in a few simple steps. The process is digital and easy to follow, and you can sign for a demo account almost instantly.
Once you have opened your account, you can switch to live trading easily. FP Markets confirms your application either the same day or within 1-2 days maximum so that you're able to access the trading experience smoothly.
You should follow these steps if you want to open an account with FP Markets:
1. Enter your name, email address, country of residence
2. Provide proof of information and upload your documents (ID, proof of address)
3. Select the type of account and trading platform as your preference
4. Fill out a questionnaire to prove your financial experience
5. Once your application is confirmed by FP Markets, follow with first deposit and start trading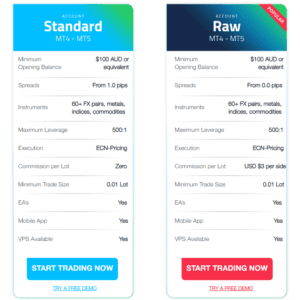 ➔ Open your free trading account with FP Markets now
(Risk warning: 75.59% of retail CFD accounts lose)
Trading Instruments
Trading with FP Markets you may access to trade 10,000+ products ranging from Forex, Indices, Commodities, Metals, Bitcoin, Equity CFDs markets offers quite competitive spreads, as we will see below in our FP markets review.
The range of instruments available on their platform is quite good and covers a wide range of markets. For example, they offer up to 7 different types of Forex pairs such as EUR/USD or GBP/USD. On top of that you have options for trading commodities such as Gold or Silver.
Each instrument defines its trading conditions, proposing flexible leverage throughout one account, and require specified margins that you may always check through FP markets platform.
FP Markets Instrument Score is 8 out 0f 10 for quite good trading instrument range covering popular Markets to trade yet proposal mainly consists of Forex and CFDs also the range is different based on entity.

➔ Open your free trading account with FP Markets now
(Risk warning: 75.59% of retail CFD accounts lose)
Fees
FP Markets fees are calculated based on a commission plus percentage basis according to the instrument. Therefore, according to your trading style and the volumes you trade, there is an option to select suitable one. We also consider deposit and withdrawal fees to see full fee picture.
FP Markets Fees are ranked low with overall rating 8 out of 10 based on our testing and compared to over 500 other brokers. Overall with our opinion, FP Markets proposes very competitive offering among the market, there is no fees charged for withdrawals also other fees are good. See fee table below and consider full pricing offering.
| Fees | FP Markets Fees | AvaTrade Fees | XM Fees |
| --- | --- | --- | --- |
| Deposit Fee | No | No | No |
| Withdrawal Fee | No | No | No |
| Inactivity Fee | No | Yes | Yes |
| Fee ranking | Low | Average | High |
Rollover
When trading, it's important to consider the main fees and rollover or swap rate as a trading cost. The broker charges a small fee for the position being held longer than a day and is defined by the instrument. Moreover, there is an option for Muslim trader to trade through Swap-Free account, which is suitable for followers of belief and tailored according to the strictest rules.

➔ Open your free trading account with FP Markets now
(Risk warning: 75.59% of retail CFD accounts lose)
FP Markets Spreads
FP Markets, founded in 2014, is a regulated and registered financial brokerage firm with headquarters in London. The broker offers the ability to trade Forex and CFDs on equities and commodities via an online platform.
FP Markets spreads are defined by the account type too, thus the STP account EUR/USD floating spread is averaged 0.7 and the ECN proposes only 0.1 for the same pair. However, ECN account charges commission to every order, which is defined by the instrument and is 3$ for Forex instruments, 3.5$ for Metals and offers 0$ commission on commodities or cryptocurrencies. As well you can compare fees with another popular broker BDSwiss.
| Asset/ Pair | FP Markets Spread | AvaTrade Spread | XM Spread |
| --- | --- | --- | --- |
| EUR USD Spread | 0.7 pips | 1.3 pips | 1.6 pips |
| Crude Oil WTI Spread | 3 pips | 3 pips | 5 pips |
| Gold Spread | 16 cents | 40 | 35 |
| BTC USD Spread | 62 | 0.75% | 60 |

➔ Open your free trading account with FP Markets now
(Risk warning: 75.59% of retail CFD accounts lose)
Deposit and Withdrawal Methods
For FP markets payment methods that allow you to proceed with account funding, some of methods including fees and another is free of charge. Generally, trading accounts are available at 10 base currencies, hence you can choose the best suitable option and transfer fund accordingly which is a great saving and easier money transfer for you.
Funding Methods we ranked Good with overall rating 9 out of 10. Good thing Fees are either none or very small also allowing to benefit from various account base currencies, also FP markets process our test withdrawal free of charge
Here are some good and negative points for Fp Markets funding methods found:
| FP Markets Advantage | FP Markets Disadvantage |
| --- | --- |
| Minimum deposit – 100$ | Some withdrawal methods may add on processing fee |
| Wide range of deposit options and base currencies supported | Condition vary by entity rules |
| Free deposits | |
| Withdrawal offer 0$ fee policy | |
Deposit Options
FP Markets offers a variety of deposit methods. You may choose between the most common ones, including Bank Wire Transfer, Skrill and Neteller, as well as Credit Cards or Debit Cards.
For fund transferring fees, FP Markets does not waive transfer fees for deposits via Bank Transfer and Broker to Broker, also FPM covers International fees up to 50$ for deposit greater than 10,000$, which is a good plus with our opinion. You may request to perform the transfer from other brokers in case you would like to transfer funds between the accounts and from other brokers.
➔ Open your free trading account with FP Markets now
(Risk warning: 75.59% of retail CFD accounts lose)
FP Markets Minimum deposit
Minimum deposit amount for The Standard account is 100$ ECN account set also 100$
FP Markets minimum deposit vs other brokers
| | | |
| --- | --- | --- |
| | FP Markets | Most Other Brokers |
| Minimum Deposit | $100 | $500 |
Withdrawal
The FP Markets withdrawal fees are different from the option to another, some require no fees and another will add on a small mark up as per policy applied, withdrawal options are wide including Wire transfers still most used among traders, e-wallets and cards, see table below.
How long does it take to withdraw money from FP Markets?
Generally, it takes one to two business days for a withdrawal request processed by an FM Market.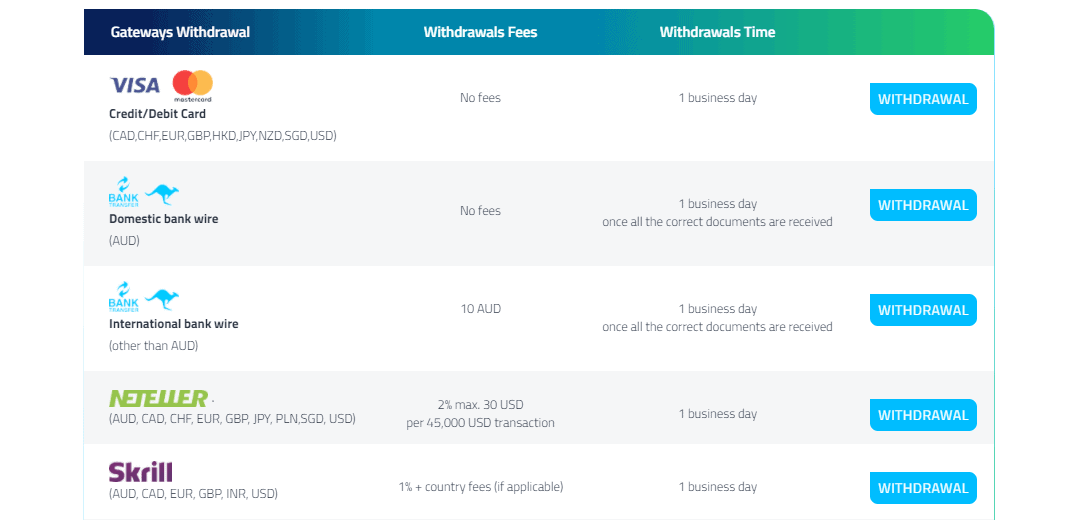 ➔ Open your free trading account with FP Markets now
(Risk warning: 75.59% of retail CFD accounts lose)
Trading Platforms
There is a comprehensive choice between the platforms on FP Markets proposal, thus powerful capabilities provided that is definitely a big plus, with the choice between MT4, MT5 and IRESS platforms as well MAM and PAMM account possibility for money managers.
FP Markets Platform are ranked Excellent with overall rating 10 out of 10 compared to over 500 other brokers. We mark it as excellent for good offering inlcuding market leading software, also alternative options, besides FP Markets provides quite good Copy Trading and technology solutions too provided with excellent tools
Trading Platform Comparison to Other Brokers:
| Platforms | FP Markets Platforms | BlackBull Markets Platforms | eToro Platforms |
| --- | --- | --- | --- |
| MT4 | Yes | Yes | No |
| MT5 | Yes | Yes | No |
| Own Platform | Yes | Yes | Yes |
| Mobile Apps | Yes | Yes | Yes |
Web Trading Platform
As a broker, we offer a wide range of platforms for you to choose from.
Our web-based platform, MT4 and its newer version MT5, do not require an introduction. These platforms offer a dynamic feature through detailed insights and one of the best in industry options for automated trading via EAs, so both can be accessible via Browser.
Other platforms include JForex and WebTrader (Web-based platform), CTrader (Desktop platform)
➔ Open your free trading account with FP Markets now
(Risk warning: 75.59% of retail CFD accounts lose)
Desktop Trading Platform
IRESS world known platform that suite products for global equities, indices, and futures CFD trading remains as your trading possibility with comprehensive, unparalleled trading and transparent pricing from market depth. Furthermore, the platform enhanced with automated order options also and complex order types, which definitely worth serious consideration. See our Review snapshot below.
There are MetaTrader versions that suit any device either PC or MAC, so you can follow with installation and enjoy great customization capabilities of MT4 or 5.
Mobile Trading Platform
The FP Markets offers the MetaTrader 4, MetaTrader 5 and IRESS Mobile as mobile trading platforms—available for both iOS and Android devices. These apps provide users with alerts, push notifications that allow them to fully control their trades right from their phones.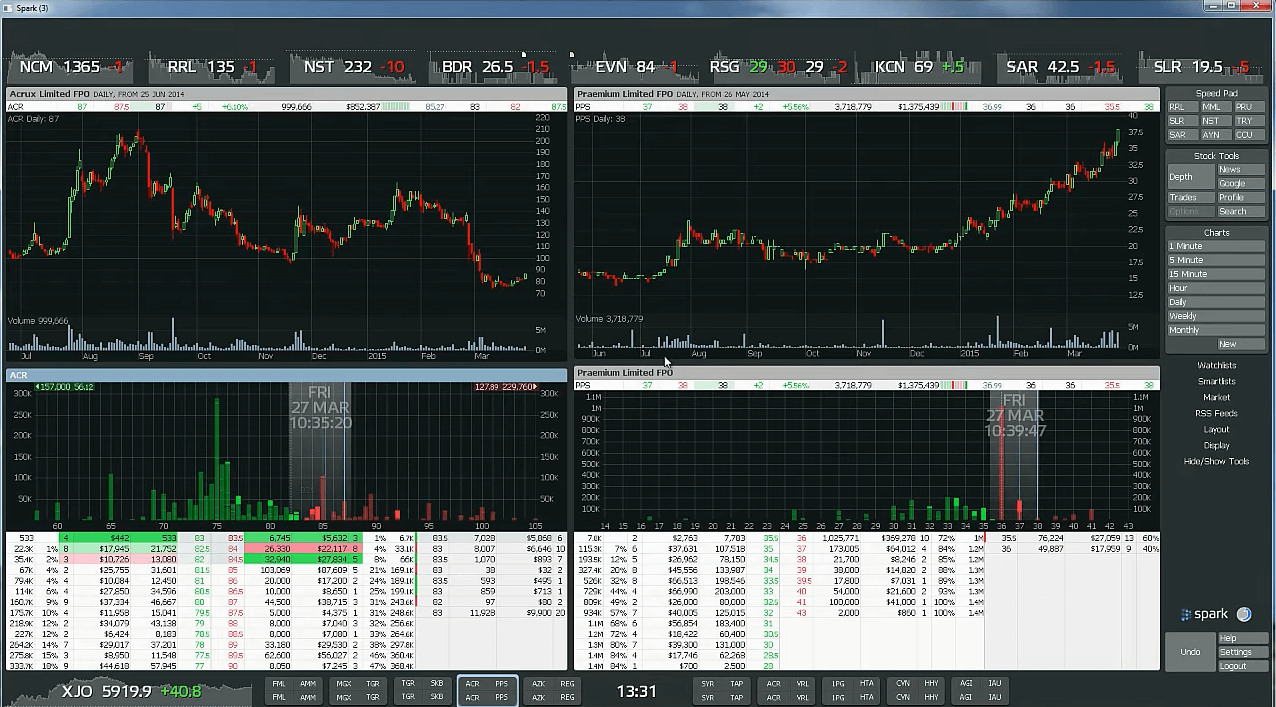 Research Trading Tools
For the research tools, the platform enables one-click trading, algorithmic rules, indicators, Autochartist and social trading functions that allowing to participate to the active trader community. Also, the MT5 brings one of the best, extended inbuilt indicators and graphical objects via pending orders and displayed currency market depth.
Another good addition we found, FP Markets gives back to their clients, by reimbursing VPS purchase. The client can sign-up to a chosen VPS provider trade minimum of 10 lots on RAW FX and get a cash payment back into the trading account with a maximum of up to 50$ a month.
➔ Open your free trading account with FP Markets now
(Risk warning: 75.59% of retail CFD accounts lose)
Customer Support
FP Markets is a very client-oriented broker with a solid reputation and a comprehensive range of services. The company offers a wide range of products and ensures that their clients receive the best possible support.
The broker has an excellent online support team, which is available through various methods, including live chat, phone, emails and faxes. The customer service representatives are well-trained and provide knowledgeable answers to all your questions. They are multilingual and speak various languages such as English, Spanish, French and German among others. You may count on quality help from them regardless of where you are located in the world.
In addition to its high regard from the clients, FP Markets has established centers in Asia region, Europe and Australia so the time zones are taken into consideration as well as accessibility 24/7! The customer service is available only on working days though – Monday through Friday (9am – 5pm GMT).
See our find and Ranking on Customer Service Quality:
| Pros | Cons |
| --- | --- |
| Customer oriented handling | No 24/7 support |
| Live Chat | |
| Support of international Phone lines and range of languages | |
| Fast and appropriate answers | |
➔ Open your free trading account with FP Markets now
(Risk warning: 75.59% of retail CFD accounts lose)
Education
At FP Markets, we believe that learning is an endless task. We support personal striving and provide you with the materials, analysis and guides to help you become a better trader.
The FP Markets Trading Series presents three sections that help diverse traders to a different level: from the beginners to the more advanced traders.
We offer great research tools with comprehensive analysis that are suitable for beginning traders and also supporting everyday trading. The features include market outlooks, news feeds, trading ideas as well as third party tools such as Autochartist.
Is FP markets a good broker for beginners?
FP Markets is a good broker for beginners because they offer a lot of different resources to help you understand the market and make smart decisions. They have a beginner's guide that goes into detail about how the market works, what kinds of strategies are best for beginners, and how to get started in the right way.
They also offer a virtual trading platform where you can practice before you start trading with real money. This will help you become comfortable with the process before you put any of your own money on the line.

➔ Open your free trading account with FP Markets now
(Risk warning: 75.59% of retail CFD accounts lose)
FP Markets Review Conclusion
FP Markets is an award-winning broker that provides direct access to markets through sophisticated technology and a wide range of instruments to trade with. Their competitive pricing and excellent selection of trading platforms make them a suitable choice for traders of different sizes and expertise. FP Markets is also a reliable brokerage good for long term cooperation and different type of investors welcome.
Based on Our findings and Financial Expert Opinion FP Markets is Good for:
Beginning Traders
Professional Traders
ECN trading
Currency Trading and CFD Trading
Traders who prefer MT4, MT5 or IRESS platform
Copy Trading options with myfxbook
MAM and PAMM Trading
EAs running
Suitable for a Variety of Trading Strategies
IC Markets & Tickmill
BROKER:
REVIEW:
ADVANTAGES:
FREE ACCOUNT:
1. IC Markets

(5 / 5)
➔ Read the review
# Spreads from 0.0 pips
# No commissions
# Best platform for beginners
# No hidden fees
# More than 6,000 markets
2. Tickmill

(5 / 5)
➔ Read the review
# Spreads from 0.0 pips
# No commissions
# Best platform for beginners
# No hidden fees
# More than 6,000 markets
Pepperstone & Capital.com
BROKER:
REVIEW:
ADVANTAGES:
FREE ACCOUNT:
1. PEPPERSTONE

(5 / 5)
➔ Read the review
# Spreads from 0.0 pips
# No commissions
# Best platform for beginners
# No hidden fees
# More than 6,000 markets
2. Capital.com

(5 / 5)
➔ Read the review
# Spreads from 0.0 pips
# No commissions
# Best platform for beginners
# No hidden fees
# More than 6,000 markets
Top FX & HFM
BROKER:
REVIEW:
ADVANTAGES:
FREE ACCOUNT:
1. TOP FX

(5 / 5)
➔ Read the review
# Spreads from 0.0 pips
# No commissions
# Best platform for beginners
# No hidden fees
# More than 6,000 markets
2.HFM

(5 / 5)
➔ Read the review
# Spreads from 0.0 pips
# No commissions
# Best platform for beginners
# No hidden fees
# More than 6,000 markets
AMarkets & FXTM
BROKER:
REVIEW:
ADVANTAGES:
FREE ACCOUNT:
1. AMARKETS

(5 / 5)
➔ Read the review
# Spreads from 0.0 pips
# No commissions
# Best platform for beginners
# No hidden fees
# More than 6,000 markets
2.FXTM

(5 / 5)
➔ Read the review
# Spreads from 0.0 pips
# No commissions
# Best platform for beginners
# No hidden fees
# More than 6,000 markets