Why is It Important to Know Where Your Broker Subsidiary Is Regulated?
IronFX offers a range of regulated entities to meet the needs of its clients. Each regulator has its requirements for brokers, which may differ materially. Traders must understand these differences to evaluate whether the broker suits their needs.
In the IronFX case, traders will likely choose the entity based on their location. For example, EU-based clients who open an account with Notesco Financial Services Ltd will benefit from the oversight of CySEC, a Tier 1 regulator.
Traders who open an account with Notesco UK Limited will benefit from the oversight of FCA, which is also a Tier 1 regulator. Meanwhile, clients who open an account with Notesco (SA) Pty Ltd will be protected by the regulatory oversight of FSCA, a Tier 2 regulator. It should be noted that most global clients will likely open an account with Notesco Limited, which is an unregulated company registered in Bermuda. All entities hold clients' accounts segregated from the firm's accounts, which means that clients' funds are safe in case the broker has financial problems.
We have summarized key aspects of the broker's entities in terms of regulation and safety in the table below:
(Risk warning: 75.59% of retail CFD accounts lose)
Is IronFX Safe to Trade With?
This means that IronFX is regulated by a tier 1 (CySEC) and a tier 2 regulator (FCA), as well as an unregulated entity registered in Bermuda. All of these entities hold their client's funds separately from the company's funds, and they offer negative balance protection to their clients. Clients of Notesco Financial Services Ltd (CySEC) and Notesco UK Limited (FCA) are also protected by the compensation schemes offered by regulators.
Stability and Transparency
In addition to the factors we've already discussed, we also take into account stability and transparency when evaluating brokers. Here, we focus on how long the broker has been in business, the size of their company and how transparent they are in terms of information being readily available.
The IronFX broker website has a separate section that contains all the key legal documents. These include Terms of Business, Privacy Policy, and Anti-Money Laundering Policy.
At the same time, it should be noted that it is not possible to find information about all company's entities on the website itself. To learn about other entities, traders should go to the Notesco website.
To get information about available accounts and typical spreads, traders should visit the account types and spread comparison pages
In summary, our findings indicate that IronFX can be regarded as having a below-average level of trust and stability due to a combination of the following factors:
One of the four entities is unregulated.
Traders must do some digging to find information about all entities.
More than 12 years in business, which speaks to the stability of the company.
➔ Open your free trading account with IronFX now
(Risk warning: 75.59% of retail CFD accounts lose)
IronFX Trading Fees
IronFX is a trading platform that offers Forex, Stocks, and Commodities. Traders can open an account with as little as $100, and IronFX offers a variety of account types.
The Standard Account is spread-based and allows traders to trade with spreads from 0 pips. The minimum deposit for this account is $1,000 and there are no commissions or fees attached to it.
Traders should note that IronFX offers various types of accounts. Most of these accounts are spread-based, so traders will not have to pay a commission. Two accounts are commission-based.
For this review, we tested the IronFX Standard Account. In this trading account, IronFX charges spreads and swap/rollover fees. Spreads are variable and depend on the liquidity situation in each instrument at a certain point in time. Swaps fees can be found in the MetaTrader platform.
IronFX Spreads
We tested the spread on the IronFX standard account during the London open at 8am UK time and just after the US open at 2.45pm UK time. These are the most actively traded times.
The average spread was 0.2 pips for a 1:1000 lot, which is around $0.02 per pip.
This is much better than we have seen with some other brokers, but you need to keep in mind that this figure depends on where you place your order and what currency pair you are trading.
IronFX has spread levels that vary greatly between instruments. For example, Gold and Apple have low spreads, while EUR/USD, GBP/JPY, and Tesla have medium spreads. Meanwhile, Oil, Dax, and Dow have high spreads.
Traders will need to do their homework in order to determine which instrument(s) will provide them with the best option for their trading needs.
➔ Open your free trading account with IronFX now
(Risk warning: 75.59% of retail CFD accounts lose)
Swap Fees
We measured the swap fees for EUR/USD and GBP/JPY, and we found that there's a major difference between swap long rates and swap short rates. This difference should be taken into account when trading, as it can impact your performance.
Are IronFX Trading Fees Good?
The spreads we measured were low for some instruments, medium and high for others. Due to the big difference in the spread levels between various instruments, traders should monitor the spreads for the instruments they want to work this and decide whether IronFX suits them.
Non-Trading Fees
We know that most of our customers are traders, so we have made it our top priority to make sure that we provide a platform that is as low-cost and accessible as possible.
That's why we have a 3% "no trading" fee, which applies in case the trader deposits and withdraws funds without ever making a trade. There is no inactivity fee, so your account will not be charged if you are not trading for several months after making your previous trade.
➔ Open your free trading account with IronFX now
(Risk warning: 75.59% of retail CFD accounts lose)
IronFX Desktop and Web Platforms
In this review, we tested the MetaTrader 4 platform. MetaTrader 4 is a well-known platform that offers a wide range of indicators and timeframes for technical analysis. MT4 is offered by various brokers, so many traders have some experience with this platform.
In general, MT4 charts are easy to configure even for novice traders after some prep work, and they surely have enough options for advanced traders who could also download and install additional indicators if needed.
We found that the MT4 platform offered very good performance in terms of speed and latency when compared to other platforms. This is because it does not require any installation or registration; you can simply log into your account on any device and start trading right away.
The only thing you need to do before starting trading is to verify your identity by sending copies of documents such as your passport or driver's license via email or fax (depending on your location). After doing this once or twice per year, you will be able to trade without worrying about being blocked from trading due to insufficient verification levels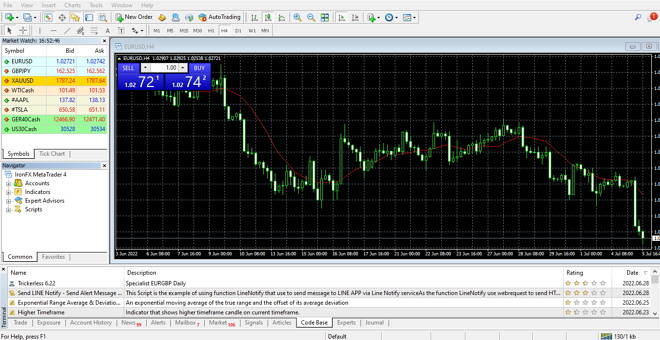 MetaTrader 4 Desktop
General Ease of Use
IronFX is a popular broker that offers several different trading platforms. The most popular platform is the MT4, which is a very user-friendly trading platform that suits beginners and advanced traders alike. While beginners may have some work to do to get accustomed to the platform, the information is readily available on the web, both in text and video forms, so those willing to study trading will face no material problems with MT4.
MT4 offers customizable watchlists and charts, which could be tailored to traders' needs. The trading platform also provides copy trading and automated trading features. Traders who are new to the platform will need to spend some time learning the ropes, but the navigation is logical, so it would not be a problem.
Charts
Charts MT4 is a powerful charting platform that allows you to create complex charts with ease. You can set up multiple indicators and combine them with any symbol. You can quickly add text labels or change their colors and fonts, as well as customize the look of your charts by adding shadows, different styles of grid lines, and more. The platform also provides a variety of technical analysis tools such as moving averages, price patterns, Fibonacci retracements and extensions, Gann lines, Elliott Wave analysis indicators and more.
You can use this feature to display different trading instruments on a single chart, or you can use it to display multiple instances of the same trading instrument on different time frames.
The most popular among traders are the Elliot Waves indicator, which could be purchased from third parties.
You can choose between bar charts, candlesticks charts and line charts for each of your trading instruments. Candlesticks are generally more popular among traders as there is an abundance of candlesticks patterns used to make trading decisions. Other types of charts also have their fans, though.
➔ Open your free trading account with IronFX now
(Risk warning: 75.59% of retail CFD accounts lose)
Orders
MT4 provides access to main order types that you will need when trading:
market orders – buy or sell at best price available in the market. It is the fastest way to enter or exit a trade.
limit orders – buy or sell at a specific price, which may be better than the current market price. Limit orders are used to enter a new position at a particular price, or to exit an existing position at a specified price.
stop loss orders – these are also used to exit an open position, but in this case when the market reaches a certain level. Stop loss orders can be used for opening and closing positions as well.
IronFX Mobile App
IronFX offers the MT4 versions for Android and iOS. In this review, we tested IronFX Mobile App for Android.
The app is available in the Google Play Store and can be downloaded from any Android device. The app has a 4.5 rating on the store, which means that most users are happy with it.
The installation process is quite simple: you need to download the app from the store and then enter your login details (email address and password). Once you do that, you're ready to start trading!
General Ease of Use
Using the MT4 mobile app is intuitive and easy to use. It provides charts, quotes, account balance info, economic calendar, news, and other tools to provide traders with an opportunity to make informed trading decisions.
The mobile app does not provide all the options offered by the desktop version, but it is sufficient enough to satisfy the needs of traders who must make their decisions on the go. There are many videos and tutorials available on the web in case you have questions about certain features of the app.
➔ Open your free trading account with IronFX now
(Risk warning: 75.59% of retail CFD accounts lose)
Devices
IronFX offers a mobile app for iOS and Android that allows you to trade from anywhere.
The MT4 version of the platform is optimized for use on mobile devices, and it offers many features that you can't find on other brokers' mobile apps. You'll be able to place trades, view charts and market data, monitor your positions, and more.
Charts
When you're on the go, it can be difficult to keep track of all the information that's happening in the markets. That's why we built our MT4 mobile app—so you can access the same technical indicators and drawing tools you use on your desktop platform, no matter where you are.
Our MT4 mobile app offers 30 technical indicators, 24 drawing tools, and 9 timeframes. You can also choose between 3 chart types: candlestick, line, or bar graphs. This selection of options is more than sufficient enough for mobile-based trading. Typically, the mobile app is used when the trader does not have access to the desktop platform but needs to monitor the market and open positions. While the app is helpful in certain circumstances, it cannot beat the speed of work that could be achieved using the desktop platform, which is the primary solution for active trading.
Orders
Iron FX Broker offers a variety of order types for you to use when trading Forex. You can set market orders, limit orders, and stop orders. Trailing stops are not available on mobile trading terminals.
➔ Open your free trading account with IronFX now
(Risk warning: 75.59% of retail CFD accounts lose)
Tradable Instruments
IronFX offers traders access to 84 forex pairs, 7 FX futures, 31 commodities, 149 stocks, 33 indices, and 32 cryptocurrencies. The broker's commodity offering is also strong. It includes commodity futures and spot contracts. The number of available indices is also high and includes spot indices and index futures.
The number of available stocks is medium. Traders will have access to U.S. stocks, UK stocks, as well as several stocks from European markets.
What are CFDs?
CFDs (Contracts for Differences) are financial instruments that allow traders to bet on securities without owning the underlying securities. The key advantage of CFDs is the access to significant leverage, which is typically not available when trading other instruments. In this light, CFDs are very popular in short-term trading.
CFDs are based on an underlying asset that you can buy or sell without actually owning it. This means that you don't have to pay for it until you close your position. Because of this, CFDs have become very popular among retail traders.
What Can You Trade with IronFX
What Can You Trade with IronFX? IronFX offers a wide range of financial instruments, so you can always find the right one for your needs. Our brokers are highly trained professionals who will help you choose the best asset class for your trading strategy.
You can trade Forex, CFDs and indices on our MetaTrader 4 platform, which is available in more than 100 currencies. We also offer several types of commodities, including gold and silver bullion, oil and natural gas futures contracts as well as monies like USD/EURO currency pairs.
If you're looking to invest in stocks or bonds, we have access to thousands of companies in the US and Europe through our partnership with Thomson Reuters Eikon platform. You can also use this platform for mutual fund trading if that interests you!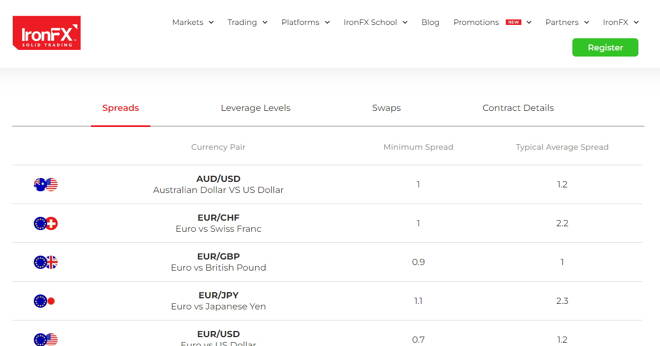 Major forex pairs available at IronFX
| | |
| --- | --- |
| Forex | Shares |
| EUR/USD | GBP/JPY | AUD/PLN | Amazon | Apple | Tesla |
| | |
| --- | --- |
| Indices | Cryptocurrencies |
| S&P 500 | Nikkei 225 | Italy 40 | BTC/USD | DOGE/JPY | ETH/GBP |
Commodities
Corn | Copper | WTI Oil
When it comes to the type of assets that IronFX has on offer, there's a lot to choose from. The number of available forex pairs is high, so traders interested in this segment should take a closer look at what IronFX has to offer.
The selection of indices and commodities is also rich and includes both spot and futures instruments.
The number of available stocks is medium. Traders who are mostly interested in stocks may take a look at other options available at the marketplace.
➔ Open your free trading account with IronFX now
(Risk warning: 75.59% of retail CFD accounts lose)
Customer Support
IronFX Customer Support Test
In order to provide you with the best possible trading experience, we've contacted IronFX customer support several times through the online chat. We asked about deposit and withdrawal methods, as well as about the amount of the minimum deposit. The support team reacted quickly, and their answers were clear and professional.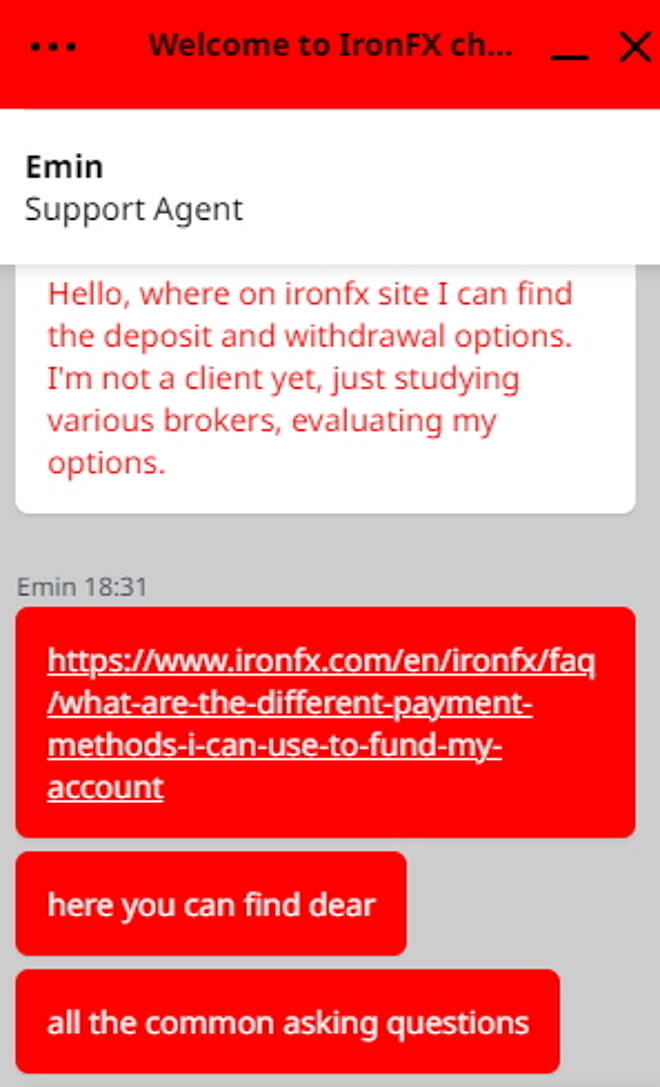 Chat support at IronFX.
Deposit and Withdrawal
IronFX received a high score in the Deposit and Withdrawal category in our rating. The company provides a sufficient number of deposit and withdrawal options, as well as a number of base currencies to choose from. There are no fees for deposits or withdrawals, except for bank wire fees under $300.
➔ Open your free trading account with IronFX now
(Risk warning: 75.59% of retail CFD accounts lose)
IronFX Deposits
IronFX allows you to deposit your funds into the account using a variety of methods. You can use bank transfer, credit card, or e-wallet. The broker does not provide all the details about deposit options on their website, so you will need to contact them if you want more information about this topic. Clients should also note that their payment providers may charge fees for their services.
IronFX Withdrawals
When it comes to withdrawals, IronFX offers a variety of options to help you get your money out.
Your base currency will be used for the withdrawal. There are no fees for all withdrawal options except for wire transfers under $300, but your payment provider may charge such fees.
The maximum amount that can be withdrawn by each payment method cannot exceed the amount you deposited. The only exception is the wire transfer, which should be used to withdraw profits. This is done to comply with AML standards.
➔ Open your free trading account with IronFX now
(Risk warning: 75.59% of retail CFD accounts lose)
Account Types and Terms
IronFX traders have a lot of options when it comes to spreads. The broker offers three types of spreads: floating, fixed, and zero.
The floating spread is the most common among brokers, and it is calculated based on the current market conditions. It's important to note that this type of spread can vary depending on your order type and the instrument you're trading.
The fixed spread is also known as "flat" or "level" pricing. This means that you'll pay a fixed fee for every trade—no matter what happens to the price of your instrument.
The zero spread option at IronFX is called Live Zero Fixed Spread, and it offers no spreads but charges commission fees (which are lower than those charged by other brokers).
When choosing an account type with IronFX, clients can opt for Standard, Premium, or VIP accounts. All accounts come with access to STP/ECN trading—straight-through processing (STP) means orders are routed directly through liquidity providers; electronic communication network (ECN) refers to matching orders between buyers and sellers via an electronic communication network; hybrid STP/ECN models combine both STP and ECN features to improve customer service.
Why is Choosing the Right Account Type Important?
Choosing an account type is one of the most important decisions you'll make as a forex trader. The account you choose must suit your needs. Typically, the trader should focus on base currency options, contract size, commission, fees, the number of pending orders/positions, and the minimum deposit size.
What Account Types does IronFX Offer?
At IronFX, clients have the option of choosing from seven different types of accounts. Both fixed and floating spreads are available for Standard, Premium, and VIP accounts.
Before choosing an account, it's important to note that both beginner and advanced traders can benefit from consulting with the company's support team. Advanced traders have plenty of options to choose from Standard, Premium, and VIP accounts offer leverage of up to 1:1000. Live Zero Fixed Spread account comes with a leverage of 1:500. STP/ECN accounts offer leverage of up to 1:200.
➔ Open your free trading account with IronFX now
(Risk warning: 75.59% of retail CFD accounts lose)
What is CFD leverage?
The leverage of your account allows you to trade with more funds than you actually have. This means that if you have $1000 in your account, you can trade with $10,000.
IronFX offers different leverage levels in its accounts, which are a good thing because they allow traders to choose the level that suits their needs best. However, it is important to remember that high leverage levels come with higher risks.
Traders should always pay attention to their leverage levels and use appropriate risk management techniques.
IronFX Account Opening Process
IronFX is a leading global forex and CFD broker that provides its customers with a wide range of trading instruments, including spot forex, commodities, indices, shares and many more. The company offers its clients a variety of trading platforms to choose from, so they can pick the one that best suits their needs.
The registration procedure is simple and takes less than five minutes to complete. To open an account with IronFX, you need to create an account first. You can do that by visiting the website and clicking on the 'Open an Account' button or by calling one of our friendly customer service representatives who will guide you through the process.
Once you have created your account successfully, you will be given an email address for which you will receive all kinds of notifications about your new trading platform such as e-newsletter updates etc. You can also use this email address if you want to contact our customer service team or ask questions about anything related to IronFX services and products (e.g., how does leverage work in trading?).
What is a demo account?
A demo account is a virtual trading account that allows you to play around with the software, get a feel for how it works, and practice trading without risking any real money. You can also use demo accounts to test out different strategies before investing in your real account.
You can open a demo account at any time by clicking on "Demo Account" in the top right corner of your IronFX Broker platform.
➔ Open your free trading account with IronFX now
(Risk warning: 75.59% of retail CFD accounts lose)
Research
IronFX offers traders a range of tools to help them make informed decisions when trading.
The first tool is an economic calendar, which provides information on important events in the global economy. The calendar is updated daily and contains key highlights of the trading day. It may also contain a short video or some technical analysis.
IronFX also provides access to financial news, which is published daily and contains all the highlights of the trading day. The news may include videos and analysis as well as written commentary on current events that might affect your trading experience.
Education
IronFX has a lot of educational content for beginners. The cornerstone of the content is live weekly webinars, which are available in several languages, including English, Spanish, Portuguese, Farsi, and Italian. Webinars include topics like "Technical Analysis 101", "Fundamental Analysis 101", "Support & Resistance" and other beginner-oriented topics. The webinar project is new, and the current schedule suggests that more advanced topics like "Multi Time Frame Analysis" and "Advanced Moving Average Strategies" are coming soon. IronFX also has educational podcasts.
(Risk warning: 75.59% of retail CFD accounts lose)
The Bottom Line
Founded in 2010 by experienced traders, IronFX is a highly transparent and well-established broker. In business for more than 12 years, IronFX has built a reputation as one of the most trusted forex brokers in the industry. The company offers multiple account types and multiple base currency options. All accounts have the MetaTrader 4 platform.
IronFX offers its services through four entities: Notesco Financial Services Ltd (Cyprus), Notesco UK Limited (UK), Notesco (SA) Pty Ltd (South Africa), and Notesco Limited (Bermuda). IronFX provides traders with access to an extensive range of financial instruments, including forex pairs, commodities, indices, stocks, and cryptocurrencies. The number of available forex pairs is high, while the number of available indices is medium. The number of available commodities is low.
In our tests we found that spreads for Gold and Apple were low while spreads for Oil, Dax, and Dow were high. For beginner traders who want to get started with a minimum deposit of $50 or less there are educational webinars available in multiple languages on their website. Advanced traders will benefit from multiple account types and multiple base currencies as well.