0 out of 5 stars (based on 0 reviews)
There are no reviews yet. Be the first one to write one.
What is LiteForex?
LiteForex is a forex broker that offers its traders real-time data and the opportunity to trade on more than 70 currency pairs. The company was founded in 2006 and has since grown to be one of the most trusted online forex trading platforms in Europe.
In addition to its own website, LiteForex also has apps available for Android and iOS devices, as well as an application for desktops called MetaTrader 4 (MT4). This software allows users to trade from their computers or mobile devices.
LiteForex offers a wide range of educational resources for new traders who are just getting started with forex trading. These resources include articles on strategies and tips for success, as well as webinars on specific trading topics such as day trading vs swing trading or how to manage your risk when investing in foreign exchange markets. There are also video tutorials available on topics like how to use MT4 platform or find the best brokers for beginners who are interested in learning more about investing money in futures markets
➔ Open your free trading account with LiteForex now
(Risk warning: 75.59% of retail CFD accounts lose)
LiteForex Pros and Cons
LiteForex is a forex broker that offers tight spreads, good technology, and an ECN environment with low deposit requirements and social trading. The negative points are that spreads are high for stock trading and international trading is done through an offshore entity in the Marshall Islands. There are also some negative experiences from traders.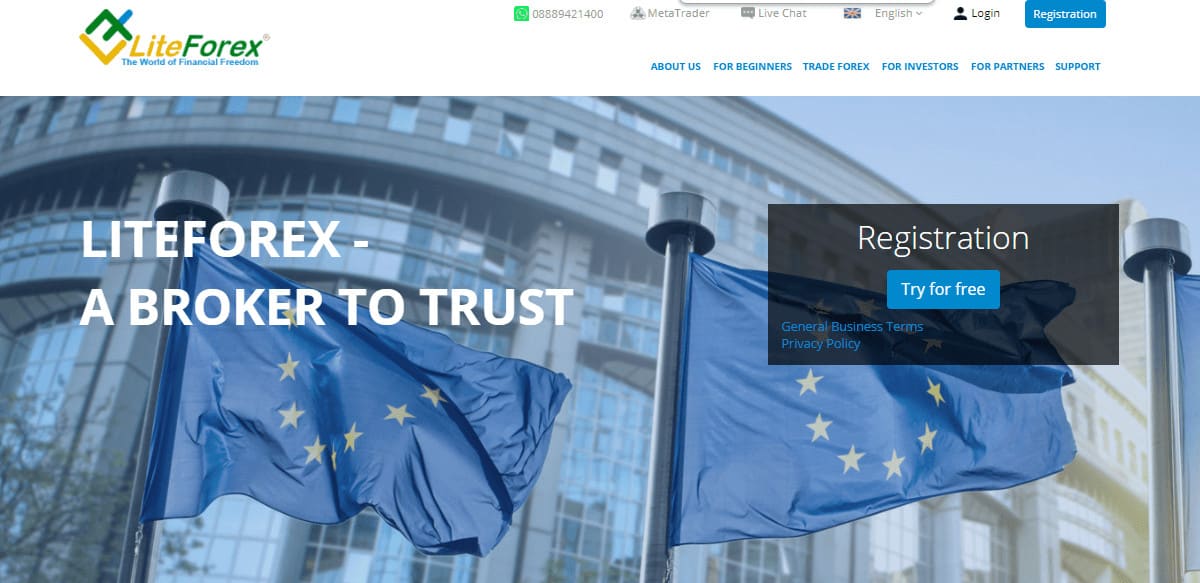 10 Points Summary
| | |
| --- | --- |
|  Headquarters | Cyprus |
|  Regulation | CySEC, FSA |
|  Platforms | MT4, MT5 |
|  Instruments | Forex, Metals, Oil, and Global Stock Indices |
|  EUR/USD Spread | 2.2 pips |
|  Demo Account | Available |
|  Minimum deposit | $50 |
|  Base currencies | USD, EUR, GBP, PLN |
|  Education | Trading tools and Analysis |
|  Customer Support | 24/5 |
➔ Open your free trading account with LiteForex now
(Risk warning: 75.59% of retail CFD accounts lose)
Is LiteForex safe or a scam?
LiteForex is a legitimate online broker that has been in operation since 2008.
It is regulated by the Cyprus Securities and Exchange Commission (CySEC) and the Financial Services Authority of Belize (FSAB). The company is also registered with the Financial Ombudsman Service in the UK.
LiteForex offers free demo trading accounts and advanced trading tools. The company provides 24/5 customer service via email, live chat, and phone.
How are you protected on LiteForex?
When it comes to choosing a broker, the regulatory status is the most important measure you should always check. In simple words, it means that your money is treated fairly according to international laws and requirements while authorities stand behind traders and protect claims or concerns towards the operation.
Therefore, trading with LiteForex Cyprus entity you can refer to CySEC in case of any violence, while the regulator himself constantly checks on the operation and environment the broker provides. Also, traders' funds are segregated from the company funds, and the application of the standard covers investment protection.
However, different authorities apply adjusted regulation according to their legislation and particular laws, and as a result may diverge from either entity or regulator. For example, LiteForex international is based in offshore Marshall Islands which is a rather non-regulated entity due to its low requirements for protection conditions that do not give sharp protection to clients. So always make sure to learn better under which entity you trade and what protection conditions apply to you but it would be better to open an account under European ESMA regulations.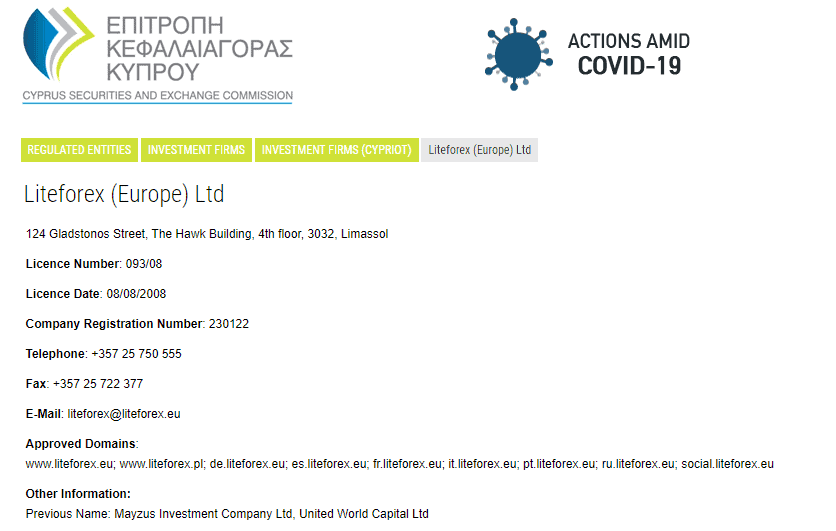 ➔ Open your free trading account with LiteForex now
(Risk warning: 75.59% of retail CFD accounts lose)
Leverage
LiteForex is a European broker that is also compliant with ESMA standards of lowered leverage. This means that international traders can still enjoy a high leverage level of 1:500 on Forex instruments.
European traders are limited to a maximum leverage of 1:30, so make sure you verify conditions and understand how trading works before signing in. Leverage is a tool of two sides that will maximize your gains and losses alike, so always be sure to learn how to use it and what the smartest way for a particular instrument is.
Account types
LiteForex offers two account types with STP and ECN execution models accordingly. The Standard Account is where all costs are built into the spread, while on the ECN account you'll see raw spreads and commission charges as your trading costs.
How to open your account
The account opening process with LiteForex is digital and easy to follow. You will be guided by the steps, and it is normal to upload your ID and residence registration, which happened during the stage of your identity verification necessary due to regulations.

➔ Open your free trading account with LiteForex now
(Risk warning: 75.59% of retail CFD accounts lose)
Trading Instruments
There is a range of products that you can choose from including popular Forex, Metals, Oil, and Global Stock Indices traded like CFDs.

Fees
The fees for LiteForex depend on the account type you select. If you choose to pay off commission per lot, your fee will be based on interbank spreads starting at 0 pips. If you select to pay only spread, your fee will be 2 points.
Spreads
If you're looking for an account with a lower spread, the ECN account might be the right choice.
The ECN account has an average spread of 0.1 pips on EUR/USD pair, plus a 10$ commission.
However, keep in mind that this is only if you decide to trade in standard lots. If you want to deal with micro or mini lots, then the spread will be higher.
For instance, see below a comparison of the most traded instruments and offered spread on the, as well you can compare fees with another popular broker for good understanding alike BlackBull Markets.
| Asset/ Pair | LiteForex Spread | FP markets Spread | XM Spread |
| --- | --- | --- | --- |
| EUR USD Spread | 2.2 pips | 0.7 pips | 1.6 pips |
| Crude Oil WTI Spread | 3 pips | 3 pips | 5 pips |
| Gold Spread | 11.0 | 16 cents | 35 |
Rollover
The rollover or swap rate is a trading cost that applies to your position if it is held longer than a day. This fee is charged by the broker, and it's defined by the instrument you're trading.

➔ Open your free trading account with LiteForex now
(Risk warning: 75.59% of retail CFD accounts lose)
Deposit and Withdrawal Methods
When you sign up with LiteForex, you can choose from a variety of payment methods to fund your account. Some of these methods include fees and others are free of charge. Additionally, depending on your residency and its applicable policies as well as entity rules of LiteForex that apply, money transfers to or from the account may be necessary.
Deposit Options
With LiteForex, you have a variety of options for transferring funds:
Bank wire transfer
E-wallets including Neteller and Skrill
Credit Cards or Debit cards
As for the fund transferring fees, LiteForex does not charge transfer fees for deposits yet various jurisdictions and payment providers may add on some fees, so be sure to verify this info as well.
Minimum deposit
The LiteForex Standard account minimum is 50$ at the start, and the ECN account set is also 100$ and it is a great opportunity since the requirement is quite low. Yet, be sure to verify conditions and margin requirements for the instrument you wish to trade, also better check all the margins via Demo account at first before you sign in.
LiteForex minimum deposit vs other brokers
| | | |
| --- | --- | --- |
| | LiteForex | Most Other Brokers |
| Minimum Deposit | $50 | $500 |
Withdrawal
LiteForex withdrawal fees are varied, as with most brokers. Some LiteForex withdrawal options have no fees and others will add a small mark up to the fee amount, see table below.

➔ Open your free trading account with LiteForex now
(Risk warning: 75.59% of retail CFD accounts lose)
Trading Platforms
LiteForex is a regulated broker, which means you can use them without worrying about your funds being stolen or lost. They also offer a wide range of trading platforms, including MT4 and MT5, which are among the most popular and well-known in the industry.
MT4 and MT5 are two of the most popular trading platforms for Forex traders. Both platforms offer a number of advantages, but each one also has its own unique strengths and weaknesses. Before you make your choice, consider which platform will work best for you based on the type of trader you are, your trading style, and what kind of experience you want to have when using it.
.
| Pros | Cons |
| --- | --- |
| Mainstay on MT4 and MT5 platforms | No proprietary platform |
| Customer friendly design | |
| The Comprehensive range of tools | |
| Automated trading capabilities and Social Trading | |
| Clear look and fee report | |
Web Trading Platform
MT4 and MT5 are the most popular trading platforms in the world, with over 1 million active traders using them. And they're available in both web and desktop versions, with no installation required.
Desktop Platform
If you're looking for a broker that offers all of the tools you need to trade online, with no restrictions on what you can do, then LiteForex is an excellent choice.
The two platforms—MT4 and cTrader—are enhanced with automated trading and social trading capabilities, as well as additional complex order types to give you all the control you need. What's more, both platforms are compatible with PC or Mac devices.
Mobile Trading Platform
LiteForex offers a full suite of mobile trading platforms for both iOS and Android devices. The app is fully customizable, allowing users to set up alerts and push notifications so they can manage their account in real time.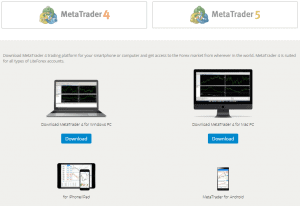 ➔ Open your free trading account with LiteForex now
(Risk warning: 75.59% of retail CFD accounts lose)
Customer Support
One of LiteForex's best features is its customer support. When you call, email, or use live chat, you can expect a quick response from a helpful representative. The company has established centers around the world, so international customers are accommodated as well as those in Europe. Customer service is available on weekdays only, 24 hours a day and five days a week.
Education
FP Markets is a great broker in the modern trading world. It provides you with a wide range of opportunities and benefits that can help you make money. If you want to become successful trader, then you can find your way to the top through FP Markets.
You can learn everything about trading with the help of FP Markets. The company offers learning materials and guides for all levels of traders. The place where you can find these resources is FP Markets Trading Series which has three sections: Beginners, Intermediate, and Advanced. Each section covers different topics such as market overviews and news feeds, trading ideas, etc., so you will be able to choose what is most relevant for your level.
In addition to this feature, FP Markets offers its customers with great research tools including comprehensive analysis suitable for both beginning and experienced traders who want to improve their skills.

➔ Open your free trading account with LiteForex now
(Risk warning: 75.59% of retail CFD accounts lose)
Conclusion
LiteForex is a great broker for beginners. They offer an easy-to-use platform, which has all the features you need to start trading. Their spreads are very competitive and they offer a wide range of markets to trade in. They have a lot of promotions that make the experience even better for new traders.
They also have an excellent customer support team that can help you out with any issues or questions you may have about trading or their platform.
IC Markets & Tickmill
BROKER:
REVIEW:
ADVANTAGES:
FREE ACCOUNT:
1. IC Markets

(5 / 5)
➔ Read the review
# Spreads from 0.0 pips
# No commissions
# Best platform for beginners
# No hidden fees
# More than 6,000 markets
2. Tickmill

(5 / 5)
➔ Read the review
# Spreads from 0.0 pips
# No commissions
# Best platform for beginners
# No hidden fees
# More than 6,000 markets
Pepperstone & Capital.com
BROKER:
REVIEW:
ADVANTAGES:
FREE ACCOUNT:
1. PEPPERSTONE

(5 / 5)
➔ Read the review
# Spreads from 0.0 pips
# No commissions
# Best platform for beginners
# No hidden fees
# More than 6,000 markets
2. Capital.com

(5 / 5)
➔ Read the review
# Spreads from 0.0 pips
# No commissions
# Best platform for beginners
# No hidden fees
# More than 6,000 markets
Top FX & HFM
BROKER:
REVIEW:
ADVANTAGES:
FREE ACCOUNT:
1. TOP FX

(5 / 5)
➔ Read the review
# Spreads from 0.0 pips
# No commissions
# Best platform for beginners
# No hidden fees
# More than 6,000 markets
2.HFM

(5 / 5)
➔ Read the review
# Spreads from 0.0 pips
# No commissions
# Best platform for beginners
# No hidden fees
# More than 6,000 markets
AMarkets & FXTM
BROKER:
REVIEW:
ADVANTAGES:
FREE ACCOUNT:
1. AMARKETS

(5 / 5)
➔ Read the review
# Spreads from 0.0 pips
# No commissions
# Best platform for beginners
# No hidden fees
# More than 6,000 markets
2.FXTM

(5 / 5)
➔ Read the review
# Spreads from 0.0 pips
# No commissions
# Best platform for beginners
# No hidden fees
# More than 6,000 markets