What is TMGM?
TMGM Group is a global broker offering traders access to CFDs in Forex, Metals, Energies, Indices, and Shares. At the beginning of the development, TMGM group started its operation in Australia back in 2013 when received its license from ASIC to provide OTC derivative and forex trading.
Further on, for years of the progress and continuously strives, the company brought consistent and reliable DMA (Direct Market Access) trading environment without any human intervention.
TMGM Group is one of the biggest forex brokers in Australia with more than 100 employees that are working on providing their clients with high-quality services. With over 10 years of experience in trading industry they were able to build a solid reputation among traders worldwide by offering them with useful tools that help them improve their skills and increase their earnings potentials.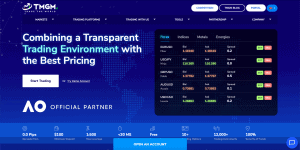 The official website of the Forex Broker TMGM

➔ Open your free trading account with TMGM now

(Risk warning: 75.59% of retail CFD accounts lose)
Is TMGM safe or a scam?
TMGM is a safe broker to trade due to its regulatory status, since Trademax Australia Limited is a financial services company regulated by the Australian Securities and Investments Commission (ASIC).
This is an important point because it means that TMGM adheres to strict standards and has been recognized for its transparency and reliability. The ASIC regulation is among the strictest authorities worldwide, which ensures the stability and trustable maintain guidelines with the protection of the client.
Also, there is a TradeMax Global Limited entity that falls under the laws of Vanuatu, an offshore zone. While generally, we do not recommend trading with offshore brokers due to lack of requirements, since TradeMax holding an additional reputable license it is considered safe to trade.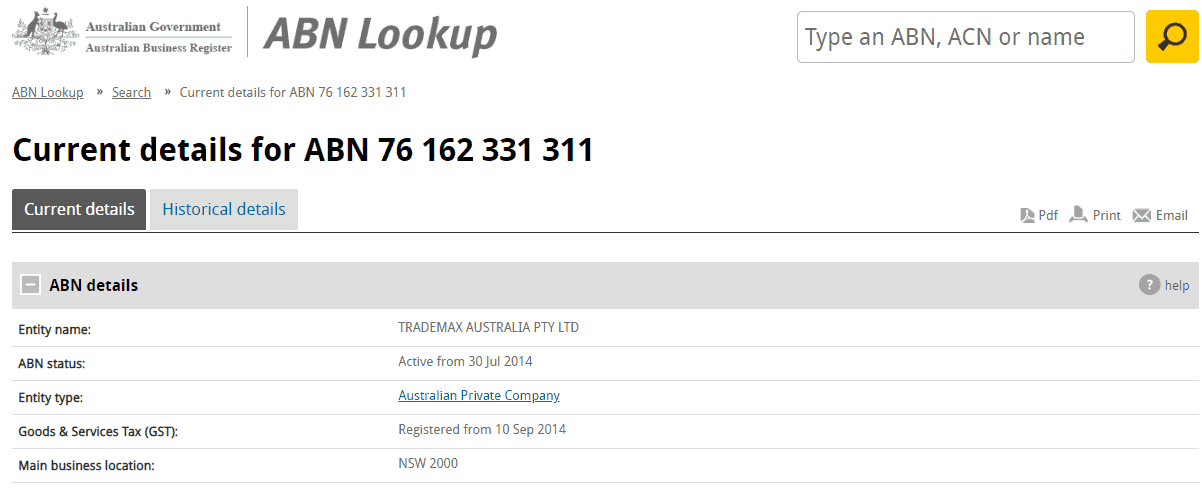 How are you protected?
The rules that are set for establishing brokerage are very strict. They include capital requirements, robust risk management and internal procedures, and sufficient cash equivalence that provides the broker's reliability. All clients' funds are held in a segregated trust account with National Australia Bank (NAB), as well as investors falling under the Professional Indemnity Insurance that places compensation in case of insolvency.
➔ Open your free trading account with TMGM now

(Risk warning: 75.59% of retail CFD accounts lose)
Leverage
When you're trading forex, you have the opportunity to use leverage. This means that you can trade with a larger amount of money than you actually have. Leverage is a loan from your broker, so it's important to understand how it works and how best to use it.
The higher the leverage, the more risk you're taking on. But if you use it smartly, you can make huge profits!
In Australia and New Zealand, where TMGM is regulated by ASIC and FMA respectively, the maximum permitted leverage for major forex pairs is 1:30 while minor pairs are 1:20. This is in-line with European and UK regulators. However, if you're a pro trader on the TMGM platform and reside outside these two countries then those numbers jump to 1:400 for both major and minor forex pairs.
If you are trading with TMGM and reside outside these two countries then the maximum leverage when trading forex is 1:500.
Account Types
If you're looking for a broker that offers a wide range of products, TMGM should be at the top of your list. In addition to offering stocks, options, futures and currencies, TMGM specializes in forex trading. The broker's platform is intuitive and easy-to-use, making it a great choice for beginner traders.
TMGM offers multiple trading accounts that provide you with the features and functionalities you need no matter what your trading experience level is. Whether you're a long-term investor or a day trader, TMGM has a trading account designed for your needs. Users have the choice between a TMGM Classic account and a TMGM Edge account.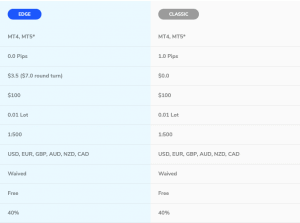 ➔ Open your free trading account with TMGM now

(Risk warning: 75.59% of retail CFD accounts lose)
Swap-free account
If you're looking for a broker that can help you plan your trades and mitigate risk, TMGM is the place to go. They offer a variety of account types and features, including options on futures contracts and currency pairs, as well as indices, shares, commodities and bonds.
The company offers two types of accounts: Edge and Classic. Edge accounts have a $100 minimum deposit and a 0.01 lot minimum lot size; Classic accounts have no minimum deposit but require a larger minimum trade size of $500.
In addition to their trading platform, which includes market data tools like charts and graphs, TMGM also offers educational resources for traders who are new to the world of finance or are looking for ways to improve their skills. If you'd like more information about this broker or any of its services then please contact us today via email or phone!
Demo Account
If you're new to trading, or just want to practice a little before opening an account with TMGM, you'll want to check out their demo accounts. These virtual accounts give you access to the MetaTrader 4 platform (which we'll get into in a minute), and they last for 365 days—but if there's no activity for six months, your access will be removed. You can choose between three funding amounts: $5,000, $10,000, and $50,000.
Fees
If you're looking to trade with classic accounts, TMGM is a great place to start. Their Classic account type offers spreads from 1 pip. However, no commission fees are included, since they're already part of the spread. The Classic account type is ideal for anyone who prefers to use mid or long-term strategies that aren't spread dependent. Classic account features include the following:
No commission
0.01 lot size minimum
ECN execution
Hedging and scalping allowed
Free funding
Base currencies include: AUD, CAD, EUR, GBP, NZD, and USD
Trading on the TMGM Edge account is one of the best ways to experience tight spreads. This account offers the lowest spreads, which start at 0 pips. Users will pay a$7 commission round turn ($3.50 one way) for each standard lot. The Edge account is the account that most closely resembles ECN trading since there is no dealing desk. This means you get ECN pricing as spreads are sourced from directly liquidity providers with no interference from TMGM. If you are a trader who desires TMGMs tightest spreads, then this is the right account type for you.
➔ Open your free trading account with TMGM now

(Risk warning: 75.59% of retail CFD accounts lose)
Deposit and Withdrawal Methods
The Easy and Convenient funding of account can be performed by multiple secure methods with zero transaction fee.
The account base currency is a choice of the trader, so it means all your transactions to and from the trading account will be performed with the chosen currency making it an easier process.
Multiple secure methods are included in this broker: Bank Wire transfers, Cards payments, PayPal, UnionPay, POLi and fasapay.
What is the minimum deposit for TMGM?
When you're ready to trade, you can open an account with MGM Brokerage for as little as $100. However, higher amounts may be needed for your trades to execute, because you'll still need to meet margin requirements. The Classic account does not charge a commission, but you'll experience higher spreads. Comparatively, Edge accounts require a $7 commission fee with tighter spreads. Regardless of the account type you select, all accounts have ECN execution with a 0.01 minimum lot size.
TMGM Minimum deposit vs other brokers
| | | |
| --- | --- | --- |
| | TMGM | Most Other Brokers |
| Minimum Deposit | $100 | $500 |
➔ Open your free trading account with TMGM now

(Risk warning: 75.59% of retail CFD accounts lose)
Trading Platforms
The trading platform of TMGM Group is a reliable and easy to use platform, which allows traders to access a wide range of products across various subsidiaries within the group. The variety includes 100+ currencies, Commodities, Indices, Futures, Cash DMA Stocks, Options, Bonds and ETFs that are accessible through the trading platform.
The most popular MT4 available through PC, Web and Mobile versions makes it easier for traders to open positions on their preferred asset class and enjoy the benefits offered by different subsidiaries within TMGM Group.
Desktop Platform
MetaTrader 4 is a great platform, but if you want to trade share options, you're better off with IRESS. IRESS allows you to trade on exchanges in the following countries – United States, Australia, The United Kingdom, Hong Kong, China and Singapore.
Direct market Trading
If you're a trader who's looking for a platform that has everything you need to succeed, IRESS is the right choice. The platform offers advanced trading tools, DMA trading and exchange pricing and market depth.
The main benefit of IRESS is that it offers exchange pricing and market depth. This is because IRESS uses Direct Market Access (DMA) trading. DMA means you can view live orders from institutional liquidity providers connected to the exchange. MetaTrader 4 does not offer DMA.
The other benefit of IRESS is that it offers exchange pricing and market depth. This is because IRESS uses Direct Market Access (DMA) trading. DMA means you Level 2 Market Depth Order Book pricing, that is you can view live orders from institutional liquidity providers connected to the exchange. MetaTrader 4 does not offer DMA.
The main thing to be aware of is the high minimum deposit fee of $5,000 USD. So IRESS is for serious traders only. To use IRESS you will need an IRESS account. Minimum deposits for IRESS are high as DMA trading is mostly for professional traders. The cost will differ between stock exchanges. The below shows costs for US stock exchanges.
Education
TMGM Academy is a unique feature offered by the broker that helps you learn the ins and outs of forex trading. There are three stages available: Beginner, Intermediate, and Advanced.
The beginner stage prepares you for your journey into forex trading, developing a strong foundation based on understanding margin trading, how to read various types of charts, plus an introduction to trading instruments, oscillators, indicators, and support plus resistance.
TMGM Academy's Intermediate Stage starts focusing on more technical aspects of forex trading. This includes considering indicators like MACD, RSI, ATRs, Moving Averages, and more. Additionally TMGM introduces Fibonacci and Fundamental analysis as well as effective ways to employ them in trading.
The Advanced Stage in the TMGM Academy is where traders get deep into various trading strategies and how to apply them. This stage includes learning about advanced forms of Fibonacci extensions and retracements, RSI correlation trade management.
➔ Open your free trading account with TMGM now

(Risk warning: 75.59% of retail CFD accounts lose)
Conclusion
TMGM is a broker that offers Forex trading services to its users. The company strives to bring comprehensive technologies for daily Forex trading operations. In terms of regulations and reliability, TMGM maintained safe trading operations according to the heavy requirements of ASIC, hence the investors are protected by many means.